EKsperience the magic of learning in our one-of-a-kind classroom!
EKsperience the magic of learning in our one-of-a-kind classroom!
EKsperience the magic of learning in our one-of-a-kind classroom!
Explore the beauty of the Philippines and its iconic destinations in our Agila the EKsperience!
Experience how thrilling Physics, Math and Science can be through Enchanted Kingdom's Enchanting Klassroom program.
At Enchanted Kingdom, learning is not only made fun and exciting but also, more meaningful. With over 30 rides and attractions to choose from, students not only have a wonderful time playing and learning but also expand their insights. Do you want to teach them about transformation of potential energy to kinetic energy? Let them ride the Jungle Log Jam or the Rio Grande Rapids. Do you want to teach them about planetary orbits? Let them see the parallelism in the Flying Fiesta. How about making them feel the power of gravity? Let them try the EKstreme Tower. There are so many ways for them to be more aware and more involved with their surroundings.

Allow them to have fun! Let Enchanted Kingdom help you bring a sense of wonder to their learning.
Physics behind the Rides is an educational approach to teaching the fundamental physics concepts using Enchanted Kingdom as a laboratory. Enjoy the death-defying thrills of Enchanted Kingdom's rides while understanding the laws and principles that keep these rides flying around on their tracks. Experience the forces and the play of these laws that makes these rides so much fun.
As a theme park, Enchanted Kingdom's diverse landscape shelters over 50 species of plants and trees. The tropical climate makes it possible to grow different kinds of plants around the Park. From towering Acacias and Palms swaying at lofty heights to the astonishing hues of blossoms vying for the attention of pollinators, the Park offers an array of plants for the curiosity and enjoyment of its guests.
Enchanted Kingdom goes beyond the magical walls to conduct EK School Caravan. The School Caravan has become one of our annual activities to invite the students and the schools to participate in an educational trip at the Park. It offers a free edu-tainment show which includes the following activities:
It is made more fun and exciting as we bring Eldar the Wizard, Princess Victoria, and the rest of the EK characters to meet and greet the students.
Enchanted Kingdom incorporates excitement into their Enchanting Learning programs in customizable ways. Learn about Theme Park Safety Management and Sales and Marketing in a whole new light. Discover Appreciative Inquiry, enrich spiritreneurship, and a lot more. Modules are highly flexible guaranteed to meet guests expectations within the 2-hour orientation supplemented with a fun-filled day at the Park.
Enchanted Kingdom, through its edutainment programs, nurtures young minds through its newly revised K to 12 curriculum-compliant modules that supplements the students' trip.

Explora-Kits, an educational booklet; K-12 curriculum compliant modules specifically designed to be grade-appropriate, making learning more fun and understandable for students of all ages. These modules are handed to students during school tours to assist them as each module has guide questions to ensure that students will know what to look for in a specific ride or attraction. A set of activities and exercises will guide the teachers in validating the student learning gained from their experience at the Park.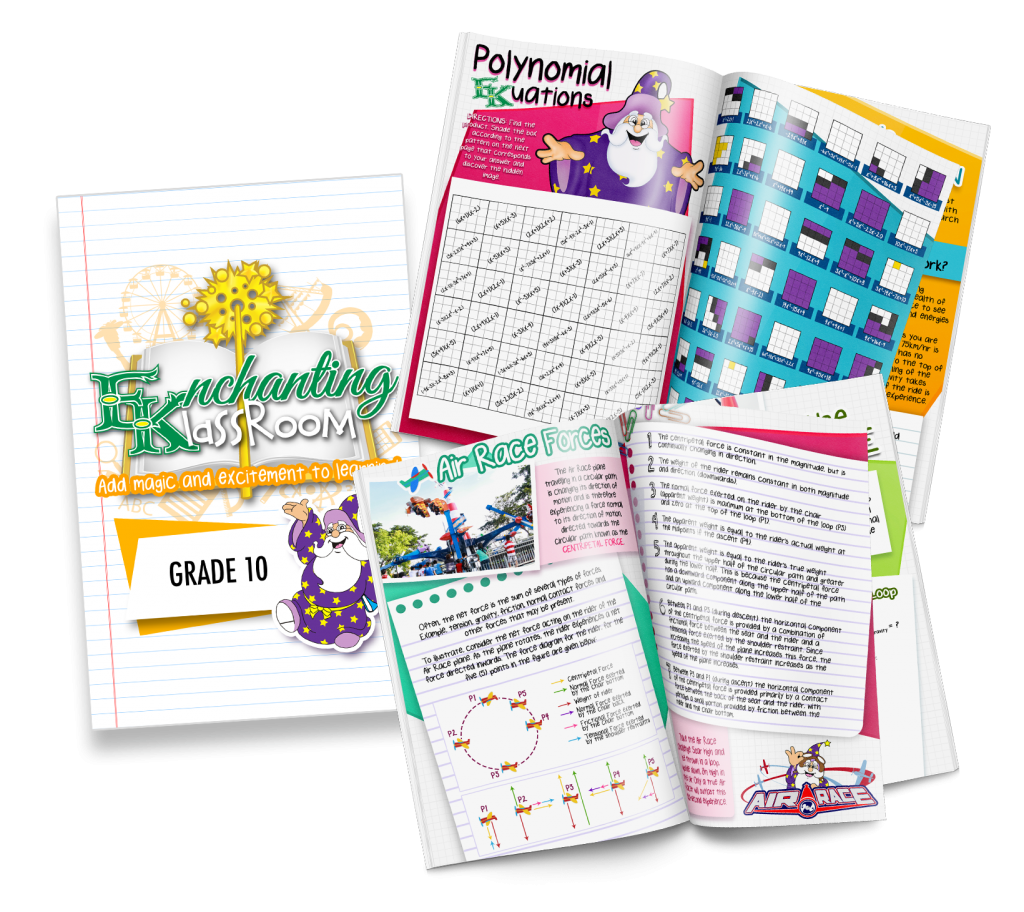 FOR INQUIRIES AND BOOKINGS: